This week has been a series of "downs and ups."
The Downs
Since beginning WW 2 weeks ago, I weighed in 5 lbs down! This was amazing. I was ecstatic. I began counting my calories last September but without significant loss of weight. My body was changing but the scale was not matching the deficit. I decided ton try WW because it takes are more holistic look at what you're eating. It balances out the carbs with fiber and protein, so I gave it a try. SUCCESS! At the meeting, I earned my first charm, a lovely blue rectangle that signified I was part of the club.
The Ups
Unfortunately, my 35th birthday was the day after the weigh-in. I had it planned out though, I was prepared. I knew where we would go out to eat, Texas Roadhouse, my favorite, and I could even get a few bites of a shared dessert. It worked out so well until…my husband (who I love dearly) surprised me with Italian Cream cupcakes, my biggest downfall.
Cake…I could eat cake all day, every day. Breakfast, lunch, dinner, snacks. It doesn't matter.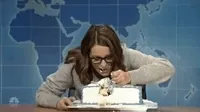 So, after losing those 5 lbs, I am now only down 2 lbs. Here's to two-a-days until I weigh-in Wednesday.